Products

-- KVM Console - Korat-Series
Korat-1901DVI

• 19" LCD Monitor with LED Backlight
• Dual telescopic rail
• DVI and VGA Input
• Depth 607mm only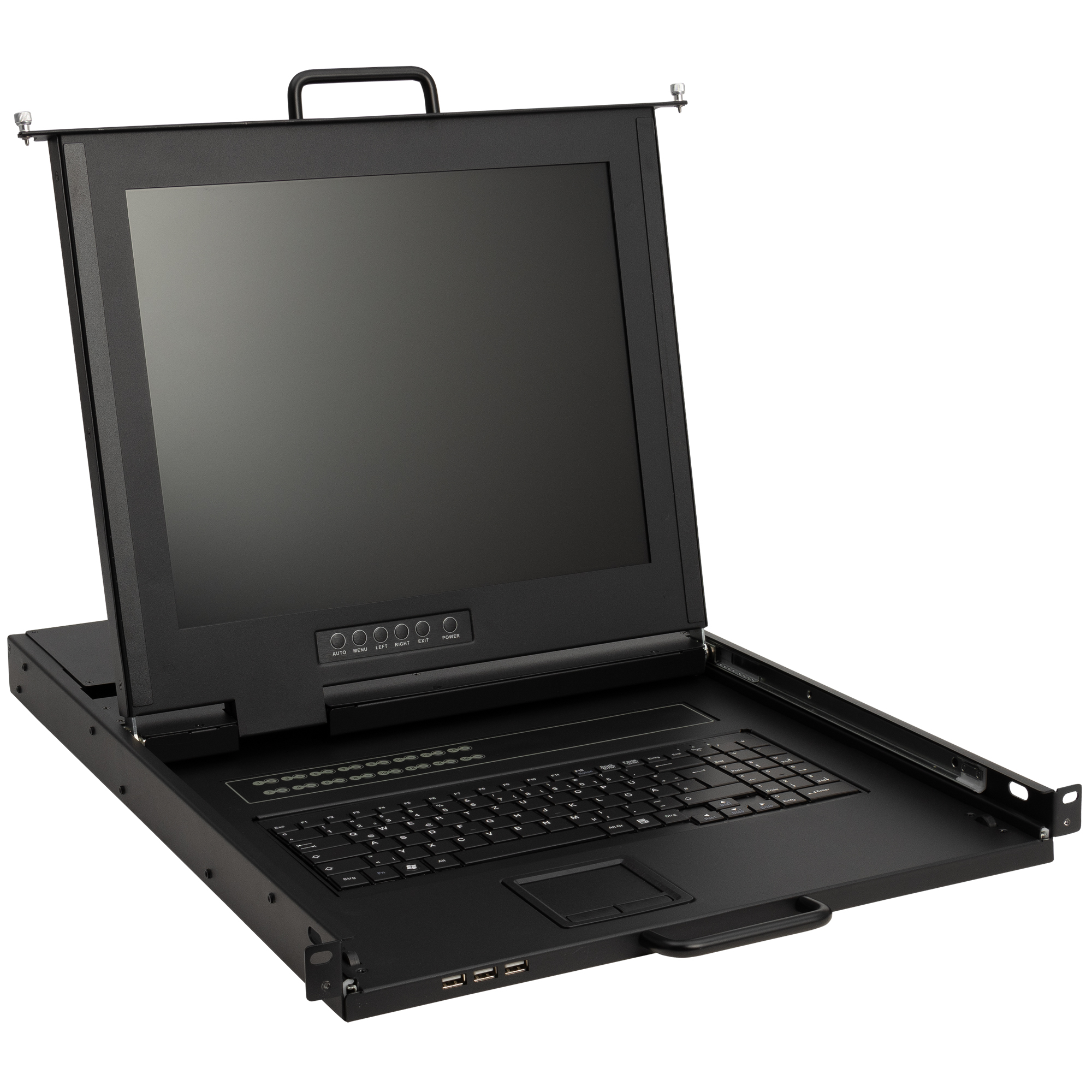 Korat-1701–DVI is a 19'' Dual Rail Monitor-Keyboard-Drawer with LED Backlight. A value keyboard with number block and touchpad, 3 USB connectors on the front side are completing the external design. The casing conforms the 1U Standard, is easily installed and mountable with the included mounting kit. The integrated telescopic dual-rail system ensures the separate pull of keyboard and monitor and by DVI and VGA input this device becomes a true allrounder. A device for professionals.
Specifications:


•DVI-I and VGA Input, USB for Keyboard & Touchpad
•Compatible with most PS/2 KVM-switches and also with USB KVM-switches
•Integrated 3 Port-front USB2.0 device-Hub for shared use of USB2.0 and USB1.1 terminal device (for another Mouse, Scanner, Printer, Cameras, USB-Storage medium, etc.) to all PCs
•Support friendly external power supply
•Telescopic Dual Rails
•Supports all USB suitable operating systems: for example DOS, Windows Series / Win. Server Seriers, Linux, MacOS, etc.
•Compatible to MAC G3/G4, MACmini and iMAC. It works with Mac OS X 10.4.10 (and other systems)
•Permanent keyboard / mouse emulation for safe function on all computers and operating Systems
Properties:


•1U 19" LCD console, 607mm depth
•Stepless, adjustable angle from 0 to 105° over high quality unique torque hinges.
•Easy one man assembly with the included installation angles.
•3 Front USB 2.0 connectors
•Integrated DVI and VGA Input
•Adjustable depth from 560mm up to 900mm tread depth
•Full metal handle
•Practical knurled screws
•High graphic resolution, up to 1280 x 1024 with 60Hz DDC, DDC2 und DDC2B
Keyboard variants:


Available in following versions: German (DE), US-English (US), French (FR), Spanish (SP), Italian (IT). Swiss / German (CH) and swedish / finnish (SWE/FI)
Versions available on request: UK-English (UK), Turkish (TK), Russian(RU) and Arabic (AR).