Products

-- KVM Console - AW-19" Series
AW-1908DVI

• 19" LCD Monitor with LED Backlight
• 8 Port DVI / USB KVM
• 3 switchable front USB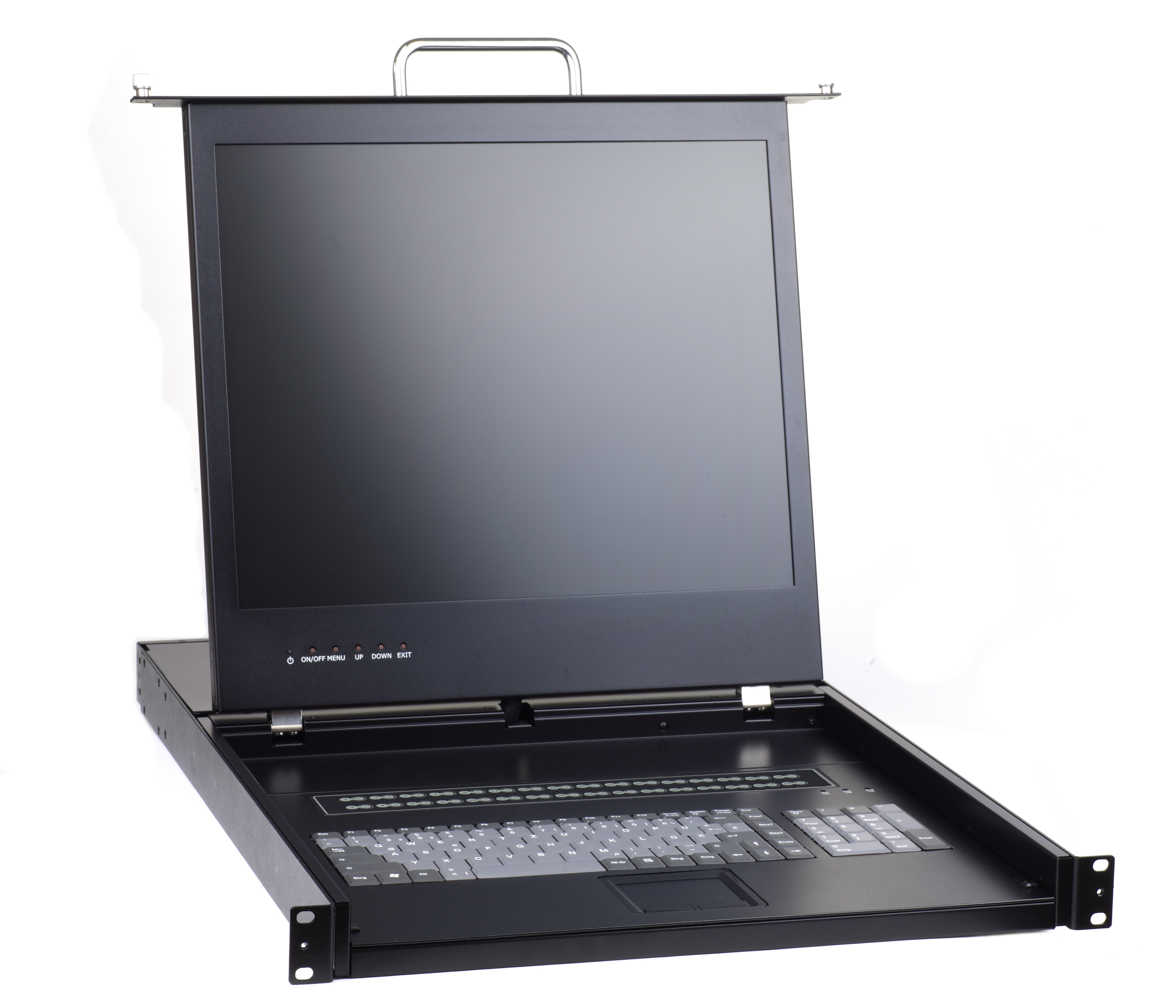 AW-1908-DVI is a 19" LCD-Monitor, Keyboard-Drawer with LED Backlight. A value Keyboard with number block and touchpad, the integrated 8 Port DVI / USB KVM and 3 Front USB-connectors are completing the external design. The casing conforms the 1U Standard, is easily installed and mountable with the included mounting kit.
Specifications:


• The DVI-graphic card ensures always a proper resolution even if the background needs to be rebooted.
• A DDC/EDID-reflection signal with Active Sync Replication (A.S.R) ensures a permanent (all time) DDC-Emulation. It places the transmission of the monitor information to all available ports , allows the use of the original monitor driver of the monitor manufacturer and DVI-"boots" in the background.
• Port-choice with the Select-Button or HotKeys (5 alternative keyboard shortcuts)
• Programmable Hotkey feature, alternative Hotkey (Scroll, Cap, Esc, F12, Num)
• Integrated 3 Port-front USB2.0 device-Hub for shared use of USB2.0 und USB1.1 terminal device (for another Mouse, Scanner, Printer, Cameras, USB-Storage medium, etc.) to all PCs
• Independent / Shared change of USB2.0 device, ON/OFF-switchable audible signal
• LED Port/Status-Display with separate 2.0 Hub Display
• UHCI, OHCI USB Interface Support
• Independent or shareable USB2.0 Hub and PC-Port selection
• Permanent Keyboard /Mouse emulation for waiting times after the switch.
• Firmware over USB always updatable
• USB/Keyboard/Mouse emulation upgradeable
• Cascadable for 64 Servers
• OSD Menu in the following languages adjustable: German, English, Spanish, Italian , French, Portuguese, Korean, Cyrillic, Japanese, trad. Chinese, mod. Chinese
• Supports all USB suitable operating systems: for example DOS, Windows Series / Server 2008 / Server 2013, Linux, MacOS, etc.
• Compatible with MAC G3/G4, MACmini and iMAC. It works with Mac OS X 10.4.10 (and other systems)
Properties:


• 1U 19" LCD console, 640mm depth
• Stepless, adjustable angle from 0 to 105° over high quality unique torque hinges.
• Easy one man assembly with the included installation angles.• Adjustable depth from 600mm up to 1130mm tread depth
• Chromed metal handle
• Practical knurled screws
• 3 Front USB-Connectors
• Integrated 8 Port DVI / USB KVM
• High graphic resolution, up to 1280 x 1024 with 60Hz DDC, DDC2 und DDC2B
Keyboard variants:


Available in following versions: German (DE), US-English (US), UK-English (UK), French (FR), Spanish (SP), Italian (IT) and Swiss / German (CH)
Versions available on request: Turkish (TK) and Russian(RU)
Trackball version is possible, in combination with a Cherry G84-4400 Trackball Keyboard.